Town Hall to use in: 6-7
Trophy Range to use in: 700-1200
Giant Healer Combo is a very popular attack strategy for player in the silver league. As the name indicates it uses giants and healers to crush other Town Hall 6's and 7's. Giant Healer Combo can be used for farming but is mainly used for pushing. The goal of this strategy is to three star a base.
150 troop space: 36 barbarians, 36 archers, 12 giants, 2 wall breakers and 1 healer
200 troop space: 45 barbarians, 46 archers 15 giants, 3 wall breakers and 2 healers
2 spells: 2 heal spells
3 spells: 1 heal spell and 2 rage spells
Step One: For Giant Healer Combo to work you need a Town Hall 6 or a Town Hall 7 with only one air defense online. This strategy will not work if the base you are attacking has more than one air defense.
Step Two: Once you have found your base check to see where the air defense is. If it is on the outside you will want to knock it out with a couple of archers. If it is on the inside of the base you will have to knock it out with some giants.
Step Three: When you have found the side the air defense is most vulnerable from, drop one giant on that side. Quickly follow that up with all your wallbreakers at the same spot you have dropped the giant.
Step Four: As soon as your wall breakers have deployed, quickly drop the rest of you giants. Watch as they break inside the wall and destroy the air defense. (If you have a rage spell, now is the time to use it)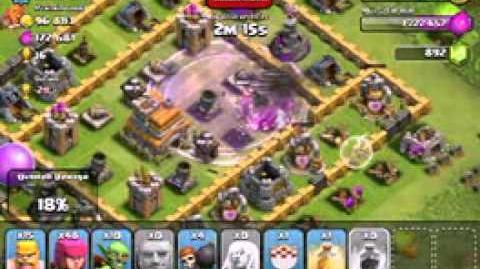 Step Five: As soon as the air defense has been destroyed drop your healer/s. Once the healer/s have locked on to healing the giants,  surround the base with your barbarians. Right after the barbarians are dropped place your archers.
Step Six: If an archer tower ever locks onto your healer and kills, use one of your heals spells to restore the giants back to full health.
Step Seven: Sit back and relax as your troops demolish the rest of the base. You have just earned +20 trophies!
I hope you guys enjoyed this guide. Giant Healer Combo is a very effective strategy. Use it well!
Subscribe to us on YouTube: https://www.youtube.com/channel/UCNo3IxCrp34erbCRLmG8HIA